Linehan Summer Research Award Activities 2014
Linehan Artist Scholars Summer Research and Study Award Activities for 2014
Each year four Linehan Artist Scholars receive support from the Linehan Program to do in-depth professional study, anywhere in the world. Here's a short overview of what happened in the summer of 2014: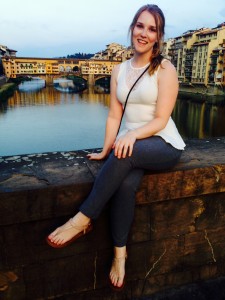 Rachael Knoblauch (Junior • Theatre Design) studied in Italy through International Studies Abroad at Florence University of the Arts. She took a course on footwear
design and construction in which she created two unique leather shoes of her own design. She also studied architecture and art
at the Florida State University campus in Valencia, Spain.
Melissa Crowhurst (Senior • Choral Music Education) received both the Linehan Summer Award with an Undergraduate Research Award to study, "Old Italian Singing," as an alternative to modern vocal pedagogy. She also studied Italian Diction both at Florence University of the Arts, in Florence, Italy.
Hannah Korangkool (Senior • Graphic Design BFA) was an intern as a Films Production Assistant at LoCAL CoLOR FiLMs studio in Bangkok, Thailand for two months. She was involved in pre-production, production design, and creation of promotional materials for a feature film. Hannah studied the process of production design, art direction in film and commercial work. She also received a UMBC 2014-15 Undergraduate Research Award to study and document Thai street food culture.
Rachel Lum (Sophomore • Dance) studied dance technique, dance composition and performance at the Contemporary Dance Intensive at Steps on Broadway, in New York City for four weeks. The program required 15 classes a week in dance technique, composition, and repertory culminating in a performance.