The Linehan Artist Scholars Program is a four-year scholarship and mentorship program for students who enter UMBC as freshmen with a major in the arts.
Linehan Artist Scholars:
Explore ideas about contemporary concepts in the arts in a first-year seminar
Live on campus in a Living Learning Community with artists who share your passion
Attend performances and visit museums in New York, Philadelphia, and Washington, D.C.
Receive summer research support to study with professional artists across the globe
Artist Scholars News
We are thrilled that UMBC Dance Alum and Linehan Artist Scholar Maia Schechter '18 has joined the Broadway cast of
The Lion King
.  Maia is a beautiful dancer and we are so proud of her!
Maia is also an excellent choreographer. When she was a senior at UMBC, her  choreography, Now Elsewhere, received regional honors from the American College Dance Association (ACDA). The work was also presented at the Kennedy Center in Washington, D.C, at ACDA's national conference.

Featured Linehan Artists: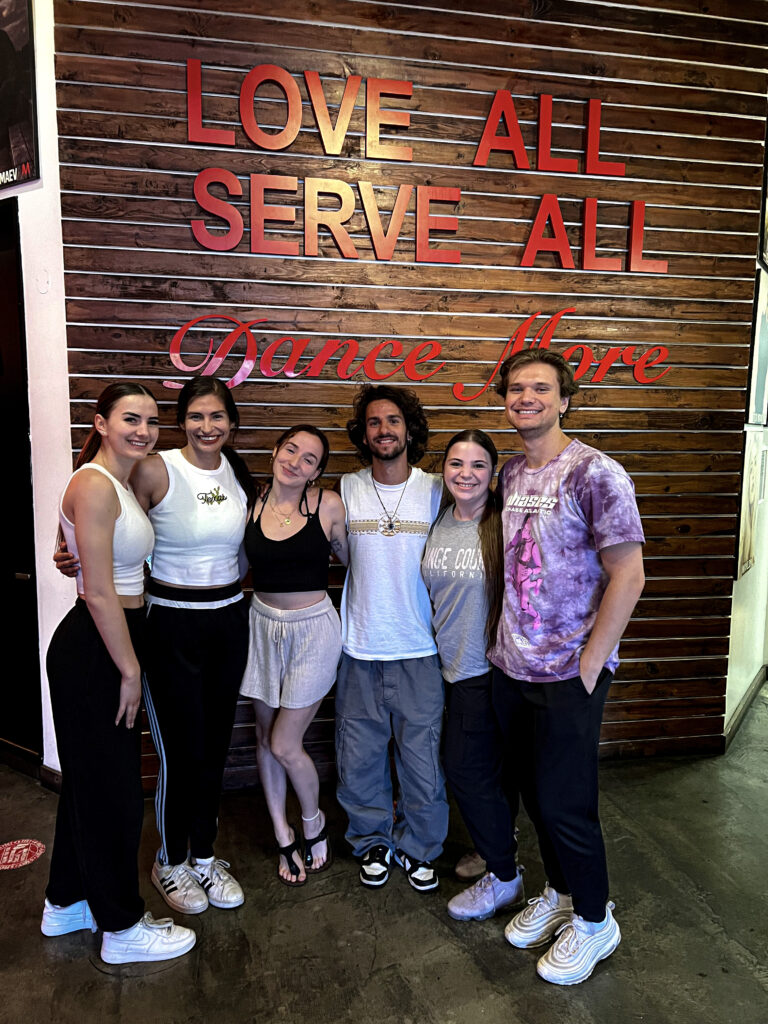 Deven Fuller '23 (far right) is featured in December's UMBC Magazine "When We Work Together".  Double-majoring in dance and math, Fuller is a Linehan Artist Scholar—part of a selective program endowed by Earl and Darielle Linehan that has launched the careers of more than 300 Linehan Artist Scholar alumni in dance, music, theatre, and other creative disciplines.
Fuller is focused on commercial dance—a highly competitive field that's principally centered in New York and Los Angeles— which would put a career in his chosen field effectively out of reach were it not for the Linehans.
Thanks to the scholarship, Fuller said, he was able to join a New York–based dance training company in his sophomore year, take classes at local studios with accomplished touring commercial dancers, and enjoy other unique opportunities. The fact that the Linehans are "recognizing dance as a serious career…is just such an amazing thing," Fuller said.
Most recently, with a Linehan Summer Research Award, "I was able to travel and do a certificate program at one of the most prestigious studios in the world for commercial dance. … I was very lucky to have the grant to be able to branch out in that direction."
Read the complete article here. Scroll to "Transforming Lives"
B.A. INDS: Anime and Manga Studies
Music Minor
Anthropology Minor
Honors College Certificate
Japanese Studies Certificate
Summa Cum Laude
Degree Mentors:
Tomoko Hoogenboom, Modern Languages, Linguistics, and Intercultural Communication
Julie Oakes, Honors College
Nicholas Welcome, Sociology, Anthropology, and Public Health
Carrie Sauter, Individualized Study
Why did you choose to major in INDS?
I was interested in an INDS major from even before I started my first semester: an interdisciplinary degree focused on a field of study not wholly represented by existing majors seemed ideal for the kind of idiosyncratic interests I have. (From the start, I wanted to do fan studies or anime studies as my degree, as I had been interested in understanding fandom for a while and had recently delved more into the scholarship around it.) My interest in INDS grew as I learned about the importance of interdisciplinary scholarship. I realized that an interdisciplinary approach was necessary for the research I wanted to do, and a major in anthropology or MCS or Asian studies would not encompass my whole plan of study.
What are your plans for after graduation, and how do you see using your INDS degree?
I am applying to the Fulbright Program to do research in Japan, and I am also applying to doctoral programs in anthropology. I plan to complete a PhD in anthropology and hopefully enter academia.
My INDS degree will continue to serve me through not only the focus on multiple disciplines but also on the skills and strategies I learned for integrating different disciplinary knowledges, which is essential for venturing into interdisciplinary fields such as anime and manga studies, fan studies, etc. Additionally, the experience I gained in creating  and revising a detailed research plan and in executing the research will be invaluable for my future as a scholar.
Extracurricular
I have been involved in the leadership of the UMBC Anime Society for many years, first as its secretary, then three years as its president, and now finally as the coordinator for Retrievercon, the convention we run every spring. My proudest achievements as president were holding our best Retrievercon yet in 2020 before everything shut down, as well as collaborating with other organizations and departments to hold a series of events in 2019 paying tribute to Kyoto Animation, an animation studio that suffered a terrible arson attack that year.
I participated in the UMBC Interdisciplinary CoLab, a research internship at UMBC, where I worked with a team of other students to produce a documentary on climate change in the Arctic that was made to be projected onto a spherical display.
I have made several presentations at URCAD based on my research, and I have also presented at three academic conferences. I published a paper in the peer-reviewed journal Mechademia in spring 2021.
My INDS capstone research is supported by a URA and an Honors College summer research grant.
Byanca Morales Cabrera Linehan Artist Scholar class of 2024 was awarded the Imagining America Joy of Giving Fellowship for the 2021-2022 academic year.  Byanca is a Visual Arts major in graphic design, photography, and print media and creates artworks with a focus on diversity and the representation of communities of color; she tackles cultural taboos specifically within the LatinX community.  Her past work employs portraiture, cultural textile pattern designs, mark-making, and in the near future, she will expand her artistic practice into public art and mixed-media installations.
The Imagining America JOG Fellowship provides a $2000 tuition scholarship, mentorship guidance along with financial support for a community project.   As a JOG Fellow, Byanca will receive registration and travel award to participate in the National Gathering that will take place Fall 2022.  UMBC is an active member of Imagining America and in 2015, was the co-host of the National Conference that took place on campus and downtown Baltimore City in cooperation with MICA, Morgan State University, and Towson University.