Linehan Summer Research Award Information
Notes about Linehan Artist Scholars Summer Research and Study Award Activities
Each year a select group of Artist Scholars receive Linehan support to do in-depth professional study, anywhere in the world. Scholars can receive up to $4000. Here's a short overview of various research and study projects:
2016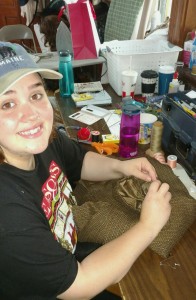 Isabelle Tabet – Theatre '18 "During my summer internship at the Theatre at Monmouth in Monmouth, Maine, I have made many invaluable professional contacts and learned so much about the business of theatrical costumes outside of the academic setting. This company combines all of the things I love best about theatre, and after my experience this summer, I will hopefully return here for many summers to come. I have tackled period costumes, blood special effects, wig styling, insanely fast quick changes, and 60 hour weeks, and I feel like a much better artist for it. This internship was truly the best first professional step I could have possibly taken, and I am forever thankful to the Linehans for making this possible."
Maia Schechter – Dance '18  "Everything is going so well here. The program is almost complete and I feel like I have grown so much since my start. Currently I am rehearsing for the Broadway Dance Center showcase and taking class. I have now completed 4 mock auditions which have served as preparation for future auditions. Before each mock, we are expected to print our head shot and resume and research the choreographer and casting agent that will be present at each mock. We have had agents from Bloc Talent Agency, Clear Talent Agency, MSA, and Lucille DiCampli Artist Representation and choreographers like Warren Carlyle, Rachelle Rak, Joanna Numata and dancers from Parsons Dance. In each mock we are given feedback and I have been lucky enough to have been offered an agent from Lucille DiCampli's Agency. In addition to the mocks, I have been lucky enough to become close with dancer and choreographer Phil Orsano. I hope to continue my training with him after the program."
Sarah Miller – Visual Arts '18 is documenting a traditional Afro-Brazilian festival in the small Brazilian town of Regência, one of the many areas devastated by the largest mining dam spill in global history. She spent a month documenting the impacted areas with a recent UMBC alum (Andres Camacho) and is now in post- production mode, transcribing interviews and editing images. In November, Andres and Sarah will present the project at a workshop at Georgetown University. While that project is in post- production, Sarah will be in Rio de Janeiro  collaborating with a team of researchers from the US, England, and Brazil. This is the first year of a four year project to research the affordable housing complexes being constructed in the center of Rio (most of the city's poor is otherwise marginalized much like many cities).
Ariana Seidman – Music '17 is currently studying in the Opera Studio at College Conservatory of Music at the University of Cincinatti. A typical day for begins with movement class at 9 am.Then we go to Italian Language class for 2 hours. After that we get a lunch break and then have a master class. The rest of the day is filled with some combination of private lessons or coachings and scene rehearsals. "I will be performing in an Aria recital tomorrow and on the 30th we have a scenes performance. I've attached a picture of me singing in a master class"
Justyna Kurbiel – Visual Arts '18 took an online animation class on Animation Mentor. It is a 6 week course where a small group of students become comfortable with Autodesk Maya's interface, attend live Q&A sessions, and complete animation assignments using Animation Mentor's rigs. "My professor, Jack Parry, was very supportive and encouraging. I now have a greater understanding of professional quality 3D animation and I feel more comfortable taking on my own project that I will use to apply to Pixar and Dreamworks internship programs."
Stephen Johnson – Music '18
In June 2016 Stephen was at the New York University participating in a film scoring workshop that the university holds in partnership with ASCAP. Stephen created and recorded his own score to film scenes under the guidance of accomplished film composers.
-Stephen Johnson Dialogue Mix.mov
-Stephen Johnson Music Mix.mov
2015
Emily Eaglin – Visual Arts '17
Emily created Marylandia, a new sketch comedy web series that stands on the shoulders of recent greats like Key & Peele, Saturday Night Live, and (of course) its namesake, Portlandia. The goal? To create a satire with relevancy & bring light to local issues such as the Baltimore Uprising, national issues such as casting & stereotypes in the industry, and global issues such as gender rights. We have a mission of promoting education, representing the underrepresented, and bringing each episode full circle by financially giving back to local charitable causes that have to do with the episode's theme. Our Second Episode: https://www.youtube.com/watch?v=XQAOKhpsMFA

Grace Davenport – Theatre Design '16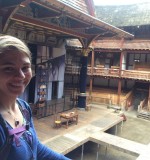 Grace took two courses in a summer program at the University of Stirling. "I'm having a lot of fun and learning a lot about the properties of light (in my photography class) and the properties of art (in my psychology of art class). For instance, did you know people read their surroundings right to left, because that's the way they were taught to read words? And a few centuries ago, theatre artists used a series of mirrors and light in order to create a kind of early hologram to depict ghosts on stage?" Grace also visited London and went to a performance at Shakespeare's Globe Theatre.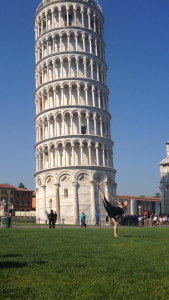 Sarah Schmitz – Dance '17 in Italy. "This week I've been taking some Gaga, which is new for me. It's very different from what I'm used to, but I think it's probably beneficial for me. I've also been taking a breath and movement class which is very interesting and incorporates singing and movement, some ballet and jazz technique, and theater dance."
2014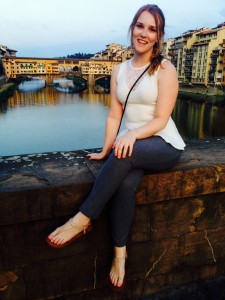 Rachael Knoblauch – Theatre Design '15 studied in Italy through International Studies Abroad at Florence University of the Arts. She took a course on footwear design and construction in which she created two unique leather shoes of her own design. She also studied architecture and art at the Florida State University campus in Valencia, Spain.
Melissa Crowhurst –  Choral Music Education '15 received both the Linehan Summer Award with an Undergraduate Research Award to study, "Old Italian Singing," as an alternative to modern vocal pedagogy. She also studied Italian Diction both at Florence University of the Arts, in Florence, Italy.
Hannah Korangkool – Graphic Design BFA '14 was an intern as a Films Production Assistant at LoCAL CoLOR FiLMs studio in Bangkok, Thailand for two months. She was involved in pre-production, production design, and creation of promotional materials for a feature film. Hannah studied the process of production design, art direction in film and commercial work. She also received a UMBC 2014-15 Undergraduate Research Award to study and document Thai street food culture.
Rachel Lum – Dance '16 studied dance technique, dance composition and performance at the Contemporary Dance Intensive at Steps on Broadway, in New York City for four weeks. The program required 15 classes a week in dance technique, composition, and repertory culminating in a performance.