After graduating from UMBC, Anderson Wells (Theatre '13) moved to Washington, D.C. to accept a wonderful offer to work as the apprentice for the Studio Theatre Acting Conservatory. The apprenticeship allowed Anderson to work administratively for the conservatory handling marketing and scheduling, assisting students and teachers, and facilitating the theatre's high school outreach program. Anderson also had the opportunity to become a student in the Conservatory further honing his skills as an actor.
He also works with other UMBC Theatre alumni on the Charm-City-based web series, B.F.A. Anderson had his D.C. acting debut at the 2014 Capital Fringe Festival. He acted and sang with Pinky Swear Productions in the latest installment of their Cabaret XXX series entitled Everybody F***ing Dies. Regarding Anderson's performance, DC Metro Theatre Arts said, "His physicality… is superb, and his comedic timing is spot-on." DC Theatre Scene stated "He takes a song over and makes it shimmer and dance."
In 2013, Anderson helped form a new a cappella group called "The Lobby." The group was AcaIdol Champions at the 2014 SingStrong A Cappella Festival. Anderson is also the newest member of one of D.C.'s Vox Pop.
Currently Anderson is the Associate Education Manager at the Studio Theatre.
This fall he will understudy the part of Alioune, in Belleville, the first play of Studio Theatre's 2014-15 season. He will also perform with Brave Spirits Theatre Co. in The Two Noble Kinsmen (Wooer/Countryman) and A Midsummer Night's Dream (Philostrate/Puck), performed in repertory in November/December.
Paige Khoury, (Dance '12) is currently working and living in NYC. After spending a year working and teaching in the Frederick, Maryland area, Paige moved to NYC to attend the year long: Pushing Progress Contemporary Training Program directed by NYC based artists Calen Kurka and Chris Hale. While in the program, she gained further knowledge and experience with somatic techniques focusing on the work and conditioning exercises of Irene Dowd. At the completion of the program, Paige was offered a summer internship with Mark Morris Dance Group, working directly under the company manager. She also continues to choreograph for 24/7 Dance Studio in Frederick, MD and will be on faculty at the 2014 Maryland Council for Dance Festival teaching contemporary dance. She plans to continue training and auditioning for NYC based modern companies. Paige is also interested in pursuing Pilates certification, massage therapy certification and possibly a Master's in Arts Administration. Thanks to her experiences as a Linehan Artist Scholar, Paige is confident and invested in her development as an artist, and hopes to give back to her community.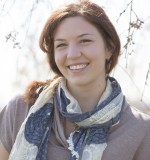 Marlayna Demond graduated from UMBC in 2011 after four great years with the Linehan Scholars Program. Her concentration was Photography, but the scholarship gave her the opportunity, through seminar classes and awesome field trips, to meet and become friends with other artists in fields such as dance, theatre, music and graphic design. Marlayna remains involved at UMBC thanks to a fantastic internship that became a staff position after graduation. Marlayna works on campus with Creative Services, a branch of the Office of Institutional Advancement, taking photos for marketing campaigns, student and donor events and promotional work for the University (she even gets to continue to cross paths with the Linehans at some of these events!). Beyond her work at UMBC, Marlayna also runs her own business doing freelance work, primarily weddings and portraits – some of her work can be found at marlaynaphotography.com
American soprano Christie Finn '07 (http://christiefinn.com) is actively involved in the world of contemporary performance and new music theater.  Finn has performed as a soloist with the Asko | Schönberg Ensemble (Netherlands), VocaalLAB (Netherlands), the Hezarfen Ensemble (Turkey), Oerknal! (Netherlands), Forum Neue Vokal Musik (Germany), and several ensembles in New York City, including ekmeles, the S.E.M. Ensemble, Experiments in Opera, and Tactus.  Finn was a Linehan Artist Scholar and graduated with a B.A. in Music from UMBC in 2007.  She holds a Master of Music in Classical Voice from Southern Methodist University and a Master of Music in Contemporary Performance from Manhattan School of Music.  In recent years, she has been part of several experimental music theater productions with the Studio für Stimmkunst und Neues Musiktheater in Stuttgart, Germany, where she currently resides.  Finn is also an active poet and serves at the Managing Director of the Hampsong Foundation (http://hampsongfoundation.org).
Career highlights from past seasons include a 2014 staged production of Ligeti's Aventures and Nouvelles Aventures in conjunction with Samuel Beckett's Spiel (Germany), the world premiere of Klaus Lang's opera die fette seele (Germany), the complete Récitations of Georges Aperghis as part of the first annual Resonant Bodies Festival in New York City, Sofia Gubaidulina's Homage à  T. S. Eliot at the Muziekgebouw aan 't IJ (Amsterdam) with the Asko | Schönberg Ensemble, Luciano Berio's sequenza iii at the Landesmuseum Niederösterreich (Austria), and the U.S. premiere of Luigi Nono's Quando Stanno Morendo (Soprano II) with ekmeles.  http://christiefinn.com
A native of Brooklyn, NY, Holly Googe '09 trained and performed at institutions such as the Ailey School, Dance Theatre of Harlem and LaGuardia High School of Music & Art and Performing Arts.  Holly then attended UMBC, where she earned her B.A. in Dance and minor in French in 2009.  Since graduating, Holly worked as a performer and choreographer on various projects, including Fashion's Night Out, GG Lizay's music video "Dance Away" and National Geographic's "Brain Games." Holly then went on to work as a dancer on Carnival Cruise Lines, performing and teaching dance to people from all over the world.  Currently, Holly resides in NYC and is continuing to pursue her passion for performing, teaching and living life!!
https://www.youtube.com/watch?v=hQQWjCQpfkc - choreography by Holly Googe
Lauren Snyder '02  is Artistic Director at Kinetics Dance Theatre in Ellicott City, Maryland.  A non-profit arts organization, Kinetics houses a professional modern dance company, student performing companies, and a school of contemporary dance.  In her role Lauren directs the professional company and oversees the organization as a whole.  As a choreographer Lauren's work spans from the abstract to the character-based; each piece introducing its own nuanced material.  Much of Lauren's work utilizes functional props and costumes, blends non-modern styles of dance, and explores unorthodox partnerwork.  As an instructor Lauren teaches modern dance with a Limon base, beginner and intermediate ballet, and her own modern-dance influenced style of tap.  Her current initiatives at Kinetics include the continued development of a Modern Master Class Series open to professional dancers and students throughout the Baltimore/DC area as well as a boy's dance program at the school.    Outside of Kinetics, Lauren has danced professionally with Baltimore Dance Project as well as taught and presented choreography along the east coast.  She has been a guest artist at New Hampshire-based Axis Dance Co, Howard Community College in Columbia, Maryland, and Franklin & Marshall College in Lancaster, Pennsylvania.  She is involved with local projects including AKIMBO Baltimore and the Howard County Community Dance Festival.  Lauren is the recipient of various individual grants for her work with dance in education and founded CommunityDanceLaboratory in 2010, a project devoted to the presentation of enrichment-based movement classes in schools and throughout the community. Lauren received her early training at Carver Center for the Arts and Technology and holds bachelor's degrees in Visual and Performing Arts/Dance and Psychology with a concentration in Development from UMBC, where she also minored in writing, as a Linehan Artist Scholar.
Franki Trout (Dance, with Education and Honors certificates, 2013) is currently performing with Transitions Dance Company in London, England and completing an M.A. in Dance at the Trinity Laban Conservatoire. After completing her graduate thesis, she plans to continue to perform, choreograph and teach.
Daphne Gardner (Visual Arts) is a filmmaker, writer, and actor from Baltimore currently living in Brooklyn. Her current work focuses on the young female experience in America: loneliness, complicated friendships, and hunting down the guy that shot your friend in the leg.
Daphne's most recent work includes writing and acting in the two-man show The Daphne and Carl Experience, which aims to cure hangovers and dissect why we are all alone in this world. She is in post-production for her first feature, Get Lost, which she co-wrote, directed, and starred in. She is also in post-production for a short documentary about the European tour of musician Nathan Reich.
Daphne says the Linehan program afforded her great opportunities at UMBC and she's very grateful to have been chosen to be part of such a prestigious program. She has worked at Oscilloscope Laboratories in film distribution and at the Tribeca Film Festival. She is currently an editor at Comedy Central.
her website is: www.daphnegardner.com
Linehan alumnus Daniel Roberts '10 studied music education with an emphasis in jazz and classical guitar. During and after his time at UMBC, he studied with Matt Belzer, Tom Lagana, Zane Forshee, Matt Dunlap, Dr. Linda Dusman, Dr. Stuart Saunders Smith, Dr. Airi Yoshioka and many others. Inspired by Bono from U2, he became heavily involved in humanitarian efforts on campus through his work with Musicians for World Peace and was instrumental in bringing humanitarians from Uganda to share with students about their needs and how to get involved.
After graduating, Daniel took an interim band director position and then taught elementary band and strings. In 2011, Daniel took a full time teaching position at Howard High School as their guitar and piano instructor. He also directs the Howard High School Showcase – a full 2 hour professional level concert put on by high school students every winter. As of fall 2014 he will be the Jazz Ensemble Director at Howard High. Daniel also supports many other arts related school initiatives.
During summer 2014, Daniel was on a select team of teachers rewriting the Howard County guitar curriculum. He also regularly presents at the Maryland Music Educator Conference sharing approaches to lesson planning, best practices and curriculum writing that integrate improvisation, composition and arranging in guitar and piano classes.
Daniel was the guitarist, band leader and primary writer/arranger for the original rock trio Band of Brothers from 2000-2013 (www.mybandofbrothers.com). This year, he began a new project with a duo called They'll Have Dreams. They will be releasing their first album in August 2014 and are looking to put together an east coast tour. To see more about They'll Have Dreams or to contact Daniel, check out www.theyllhavedreams.com and www.djrguitar.com.
Jessica Ruth Baker ('12, Theatre) is an actor and a designer living in Catonsville and working in Baltimore. She recently joined Glass Mind Theatre as their Resident Technical Director, after having worked for them onstage and off for the past five years. This past spring, she was in Murdercastle with the Baltimore Rock Opera Society, designed the set for Scab with Interrobang Theatre (founded by UMBC alumni!), and was in the All-American Genderf*ck Caberet with Glass Mind. Currently she is in a production of Into the Woods with the purple light theatre company (more alumni!) which runs the last weekend of July and the first weekend of August. Purple light: http://www.purplelighttheatre.com/ Glass Mind: http://www.glassmindtheatre.com/ My personal bio on GMT: http://www.glassmindtheatre.com/company/jessica-baker/