Michelle Purdy – Music '10 graduated with a Bachelor of Arts in percussion performance under the instruction of Tom Goldstein. While at UMBC Purdy participated in a vast array of ensembles including Percussion Ensemble, Contemporary Ensemble, Wind Ensemble, Symphony Orchestra, Gamelan Ensemble, and Chamber Players. As a Linehan scholar, she had many opportunities to work with with dancers and visual artists, and continues to enjoy much interdisciplinary collaboration. Upon graduation from UMBC, Purdy continued her studies at The State University of New York at Buffalo where she earned a Master of Music in contemporary percussion performance under the instruction of Tom Kolor.
Purdy has performed at June in Buffalo, Baltimore's Artscape Festival, the So Percussion Summer Institute, Make Music New York, The Livewire Festival, The High Zero Festival, and the Center for Advanced Musical Studies at Chosen Vale. She has performed with the Talujon Percussion Quartet, the Wooden Cities Contemporary Ensemble, and the Baltimore trio Microkingdom. Purdy currently performs with the science/music group Inverse Square Trio, the percussion quartet Umbilicus, the Sonic Meditations Ensemble, arts-in-education percussion trio Enviro Drum-Maryland, and the Columbia Orchestra.
Purdy teaches Applied Percussion, Musicianship, Music Theory, History of Jazz, and Musics of the World at Carroll Community College.
She currently resides in Baltimore, MD
Christina Animashaun – Visual Arts '13 graduated Cum Laude with majors in Visual Arts (Photography) and Media & Communication Studies. She is a visual journalist based in Washington D.C. Christina is currently working on a fellowship with POLITICO, with a focus on data visualization and graphics on politics, policy, and the 2016 presidential election.
During her time at UMBC, Christina was heavily influenced by black and white photography, performance art, and post-modern art history – often creating projects that juggled all three genres. She was awarded the 2013 Campus Action Project Scholarship for Black and White Photography for a series documenting Baltimore artists and creatives. Her senior year, she began a year-long performance art project, My Gray Life: Performing for the Spectator, with funding from the Undergraduate Research Award and presented her work at the 2013 Undergraduate Research and Creative Achievement Day (URCAD). Images from the project are exhibited at the Linehan Art Hall in UMBC's Performing Arts and Humanities Building.
Christina received an MA in Journalism and Public Affairs from American University in 2015. While completing her masters, she worked at the Investigative Reporting Workshop as a Graduate Researcher and was the bureau's photographer. She has contributed to stories published by the Washington Post, PBS FRONTLINE, WAMU 88.1 and The Center of Public Integrity.
Leon June – Music '14 is working as the live sound engineer for the two-time Grammy award winning Soweto Gospel Choir. In the fall of 2015, he accompanied the group on their US/Bahamas/Chile tour, mixing in world-renowned venues including Boston Symphony Hall and Disney Hall in LA. He is currently touring Australia with the choir, coming off a sold out show at the Joan Sutherland Theatre at the Sydney Opera House.
When he's not touring, he serves as the technical and logistics manager for jazz pianist Marcus Johnson, mixing in prominent venues and jazz clubs throughout DC, Maryland, and Virginia area.
During his time at UMBC, he enjoyed the advocacy for "a community of artists" by Linehan program director, Doug Hamby and as a result regularly engages in interdisciplinary collaboration, providing audio consultation and musical contributions to the works of visual artists and dancers.
Dr. Lindsay Phebus – Dance '06 Since graduating in 2006 Lindsay danced with the Baltimore Dance Project, Dragonfly and Deviated Theatre. She earned a doctorate in psychology in 2014 and is Licensed Psychologist working with Veterans. "Even though my profession isn't artistic at face value, it demands constant openness and creativity. These are two qualities that I was able to develop during my time as a Linehan Artist Scholar. The program has the ability to push the boundaries of your mind and guide you into uncomfortable spaces, something that has been necessary in building my practice. I am so grateful for those experiences and opportunities this wonderful program has provided! Thank you!"
Jeff Miller – Theatre '15 Since graduating from UMBC, Jeff has been working as an Actor, Director, and Teaching Artist throughout Maryland, with companies such as Chesapeake Shakespeare Company, Baltimore Shakespeare Factory, Cohesion Theatre, Drama Learning Center, Children's Theatre of Annapolis, and Educational Theatre Company. He intends to eventually earn a Masters Degree in either in Acting or Directing. He currently resides in Baltimore.
Mary Hester – Dance '14 graduated with degrees in both Dance and Interdisciplinary Studies. Throughout her undergraduate career, Mary explored the intersection of dance and public policy by creating her own Arts Advocacy major under the advising of Doug Hamby (Dance) and Carolyn Foriestere (Political Science). After graduation, she completed her Master's Degree in Public Policy with a focus in Education at The School of Public Policy at UMBC in December 2015. Throughout her Graduate studies, she served on the Board for the Maryland Council for Dance and was a teaching artist with Bright StARTS—an arts outreach program for inner-city youth through the Baltimore Office of Promotion and the Arts. Her academic research explored opportunity and access to the arts.
Currently, Mary works at The Annie E. Casey Foundation in Baltimore—a philanthropy organization that works to improve outcomes for children and families. There, she supports results-based leadership trainings for passionate advocates like herself on issues in education, health, and social justice. She is a member of the Young Non-Profit Professionals Network of Baltimore and her next adventure is creating a local chapter of Emerging Arts Leaders in Baltimore. Mary is passionate about creating equitable access to the arts in schools, and aims to continue working towards this goal through continued teaching, volunteering, research, and leadership development.
Zachary Handler – Visual Arts '03 received a Bachelor of Fine Arts in Photography from UMBC in 2003 and a Masters in Arts Administration from Columbia University Teachers College in 2005. Currently residing in Baltimore with his family, Handler serves as the Deaf Services Program Manager for the Baltimore Medical System, Inc. Always on the lookout for creative, collaborative opportunities in any of his professional realms, he enjoys the appropriation of found objects, the company of 1970s cinema, and the color pink.
Having collaborated with various dancers, performers, and choreographers from across the Maryland and Washington DC areas, as well as Los Angeles, Philadelphia, and New York, Zachary Z. Handler is most energized when photographing dance performances off-stage and in unexpected locations.
Over the past thirteen years, Handler's career as a photographer of dance and performance has afforded him the opportunity to work with Naoko Maeshiba/Kibism, PearsonWidrig Dance Theatre, and Orange Grove Dance, among many others. In addition to his work as a professional photographer, Handler has also streamlined a career in both the fields of health care and art education. Working with such arts organizations as the Museum of Modern Art, Quest Visual Theatre, and the Creative Alliance, he has provided community and access programs to individuals who are deaf, hard of hearing, and deaf-blind. Handler has also traveled both nationally and internationally to teach arts education
classes for deaf and hard of hearing youth in foster care.
Frankie Cerquetti – Visual Arts '14 graduated with a BA in InterMedia and a minor in Gender and Women's Studies. She is a freelance filmmaker, focusing on creating promotional videos and weddings. Her work can be found at www.frankiefilms.com and http://www.nationsphotolab.com/blog/spotlight-on-wedding-videography . She also works for a campus ministry organization called InterVarsity Christian Fellowship at The Maryland Institute College of Art. It's exciting because in both parts of her life, she is working and collaborating with local Baltimore artists.
Courtney Tyler – Dance '15 graduated in with a BA in Dance after having the opportunity to present her choreography, "Swans in an Ugly Duckling World" at the American College Dance Festival's adjudicated concert, dancing 4 years professionally with Baltimore Dance Project under the direction of Doug Hamby, and being awarded Outstanding Senior in Choreography after choreographing 9 dance works through UMBC's dance department. After graduation, Courtney moved to the West Coast and began expanding her dance knowledge through training in Commercial Dance, Aerial Silks, Lyra, Contortion, and Acrobatics, while getting the chance to perform for various agencies in the Las Vegas area, most notably for Penn & Teller and So You Think You Can Dance's Mary Murphy. She recently obtained her certification in Cardio Barre and will begin her 200 hour yoga teacher training this September. Courtney plans to continue auditioning in Las Vegas and Los Angeles and hopes to find a collaborative contemporary company to call home before pursuing her dream of obtaining her MFA in Choreography.
B Dyson – Dance '11 currently lives, works, and creates in NYC. After graduating UMBC with a BA in Dance and minor in Psychology, they performed with Baltimore Dance Project, ROOTED Dance Productions, and completed a 200 hour yoga teacher training at Charm City Yoga. B earned an M.S.Ed. in Early Childhood Education from Hunter College in 2015, and currently teaches kindergarten with a focus on social justice and diversity education in Brooklyn, NY. In addition, B facilitates multiple LGBTQ Affinity groups with teenagers and adults. B is currently collaborating with NYC based dancers and visual artists on a new piece exploring identity and ability.
Alexis "Ally" Kocerhan – Theatre '16 Ally has a  BA in Theatre and a BA in Gender and Women's Studies) While at UMBC she served as director of Christopher Durang's challenging one-act play "Sister Mary Ignatius Explains It All For You" as part of the theatre department's Studio 3 production in 2016.
Two classes that especially influenced her career at UMBC: "Gender, Sexuality, and Theatrical performance taught by Dr. Susan McCully and Feminist Perspectives in Transnational Cinema taught by Dr. Viviana MacManus opened my eyes to the deep connections between social justice, identity, and art."
Ally plans to get her M.A. in Aesthetics & Politics at California Institute of the Arts (CalArts). Being a double major has helped her focus on the intersections of race, class, gender, ability, and sexuality in all of her artistic and scholarly work. Through her experiences in the Theatre Department and the Gender and Women's Studies department, Ally has focused on using her work to show how art is inherently valuable, and how social justice issues are important to every aspect of our lives.
Sam Winnie – Music '16 graduated Summa Cum Laude with a degree in Music Composition. Winnie is a trombonist, bass player, and composer—a multi-talented musician who has collaborated with dancers, filmmakers, and game developers. His work has been recognized by fellow musicians in his field.  Most recently, the jury of the National Student Electronic Music Event accepted a piece of his for performance at the University of Oklahoma. Sam will continue his graduate studies in music composition at the Hogeschool voor de Kunsten Utrecht, Netherlands.
Marianne Hayden- Visual Arts '03 graduated with a BA in visual arts and a BFA in theater. She continued her education at The California Institute of the Arts, earning her MFA in experimental animation in the Film/Video department. Marianne has worked at a range of studios, including Insomniac, Technicolor, Treyarch, Imagi, and Naughty Dog, Inc. Since 2009, she's been at Naughty Dog, Inc. and has worked on the Uncharted series and The Last of Us.
Along with being a professional animator Hayden uses her theater background to direct motion capture shoots as well as act on the motion capture stage. She earned her SAG card while on maternity leave, doing stunt work for Uncharted 3.
Renee Brozic – Dance '99 has been performing, teaching all levels of Ballet and Modern Dance and making dances in the Baltimore/DC Metro Area for over 12 years. She
is a founding director of MOVEMENT/ADDICTION, a dance-based multi-media performance company, and is currently the Chair of Dance and Theatre at Howard Community College in Columbia, MD.
She holds her Bachelor of Arts in Visual and Performing Arts from UMBC, and her Master of Fine Arts in Dance Performance and Pedagogy from George Mason University.
She received her early ballet training under the guidance and mentorship of Michelle White at the Harford Ballet and the Harford Dance Theatre. She studied with International Summerdance at Point Park College with Roberto Muñoz and Tony Salatino, the Ballet National de Cuba with Laura Alonso and Ivan M. Alonso, the Allegheny Ballet, and later with Dan Joyce, Doug Hamby, Carol Hess, Liz Walton, Susan Shields, Sandy Lacy, Karen Studd and Jim Lepore.
She held a Maryland State Distinguished Scholar Talent in the Arts Award and Scholarship and the prestigious Linehan Artist Scholar Award from UMBC. She is a recipient of the Outstanding Scholarship in Choreography Award from GMU. She was the recipient of an Artist Residency at The Silo Project through The Field, NYC in 2005, and she was invited to create/perform in the 2006 and 2007 DC Improvisation Festival. Recent collaborations of an improvisational and theatrical nature have been with the Basso Moderno Duo/The Moderno Trio, Timothy Nohe, Stephanie Yezek and Eve Muson. She has performed the dances of such noted choreographers as Ana Sokolow, Paul Taylor, Mark Morris, Alwin Nikolais and Susan Shields.
Ms. Brozic has been Dance Faculty at UMBC, Towson University, Community College of Baltimore County, Howard Community College, and has been a Guest Lecturer on Hypertext Media and Dance for the English Department at GMU and on dance and Sound Design at UMBC. In 2008 and 2011 she received Howard Community College's Outstanding Faculty of the Year. Currently she is both a Professor in and the Chair of the Dance Program at Howard Community College in addition to serving as Director of HCC's Arts Collective Dance Company and Rep Stage's resident choreographer.
Most recently, she has taught, choreographed and performed internationally in the US, India, Canada and the UK as an independent artist and as part of Dakshina/Daniel Phoenix Singh Dance Company, where she has also served as Rehearsal Director.  She has been called "aristocratic and elegant" by the Oxford Times, and "brilliantly angular" and "fragile and powerful" by the Oxfringe Review.
In addition to performance-related endeavors, Ms. Brozic has been increasingly focusing on arts advocacy work within Maryland as a member of Maryland Citizens of the Arts Emerging Arts Advocates, a group that endeavors to educate the next generation of Maryland Arts Advocates, and to provide advocacy training, professional development, and leadership opportunities to young advocates in the arts field.
American soprano Christie Finn – Music '07 (http://christiefinn.com) is actively involved in the world of contemporary performance and new music theater.  Finn has performed as a soloist with the Asko | Schönberg Ensemble (Netherlands), VocaalLAB (Netherlands), the Hezarfen Ensemble (Turkey), Oerknal! (Netherlands), Forum Neue Vokal Musik (Germany), and several ensembles in New York City, including ekmeles, the S.E.M. Ensemble, Experiments in Opera, and Tactus.  Finn was a Linehan Artist Scholar and graduated with a B.A. in Music from UMBC in 2007.  She holds a Master of Music in Classical Voice from Southern Methodist University and a Master of Music in Contemporary Performance from Manhattan School of Music.  In recent years, she has been part of several experimental music theater productions with the Studio für Stimmkunst und Neues Musiktheater in Stuttgart, Germany, where she currently resides.  Finn is also an active poet and serves at the Managing Director of the Hampsong Foundation (http://hampsongfoundation.org).
Career highlights from past seasons include a 2014 staged production of Ligeti's Aventures and Nouvelles Aventures in conjunction with Samuel Beckett's Spiel (Germany), the world premiere of Klaus Lang's opera die fette seele (Germany), the complete Récitations of Georges Aperghis as part of the first annual Resonant Bodies Festival in New York City, Sofia Gubaidulina's Homage à  T. S. Eliot at the Muziekgebouw aan 't IJ (Amsterdam) with the Asko | Schönberg Ensemble, Luciano Berio's sequenza iii at the Landesmuseum Niederösterreich (Austria), and the U.S. premiere of Luigi Nono's Quando Stanno Morendo (Soprano II) with ekmeles.  http://christiefinn.com
After graduating from UMBC, Anderson Wells – Theatre '13 moved to Washington, D.C. to accept a wonderful offer to work as the apprentice for the Studio Theatre Acting Conservatory. The apprenticeship allowed Anderson to work administratively for the conservatory handling marketing and scheduling, assisting students and teachers, and facilitating the theatre's high school outreach program. Anderson also had the opportunity to become a student in the Conservatory further honing his skills as an actor.
He also works with other UMBC Theatre alumni on the Charm-City-based web series, B.F.A. Anderson had his D.C. acting debut at the 2014 Capital Fringe Festival. He acted and sang with Pinky Swear Productions in the latest installment of their Cabaret XXX series entitled Everybody F***ing Dies. Regarding Anderson's performance, DC Metro Theatre Arts said, "His physicality… is superb, and his comedic timing is spot-on." DC Theatre Scene stated "He takes a song over and makes it shimmer and dance."
In 2013, Anderson helped form a new a cappella group called "The Lobby." The group was AcaIdol Champions at the 2014 SingStrong A Cappella Festival. Anderson is also the newest member of one of D.C.'s Vox Pop.
Currently Anderson is the Associate Education Manager at the Studio Theatre.
This fall he will understudy the part of Alioune, in Belleville, the first play of Studio Theatre's 2014-15 season. He will also perform with Brave Spirits Theatre Co. in The Two Noble Kinsmen (Wooer/Countryman) and A Midsummer Night's Dream (Philostrate/Puck), performed in repertory in November/December.
Paige Khoury – Dance '12 is currently working and living in NYC. After spending a year working and teaching in the Frederick, Maryland area, Paige moved to NYC to attend the year long: Pushing Progress Contemporary Training Program directed by NYC based artists Calen Kurka and Chris Hale. While in the program, she gained further knowledge and experience with somatic techniques focusing on the work and conditioning exercises of Irene Dowd. At the completion of the program, Paige was offered a summer internship with Mark Morris Dance Group, working directly under the company manager. She also continues to choreograph for 24/7 Dance Studio in Frederick, MD and will be on faculty at the 2014 Maryland Council for Dance Festival teaching contemporary dance. She plans to continue training and auditioning for NYC based modern companies. Paige is also interested in pursuing Pilates certification, massage therapy certification and possibly a Master's in Arts Administration. Thanks to her experiences as a Linehan Artist Scholar, Paige is confident and invested in her development as an artist, and hopes to give back to her community.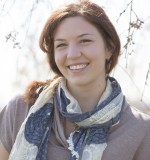 Marlayna Demond – Visual Arts '11 graduated after four great years with the Linehan Scholars Program. Her concentration was Photography, but the scholarship gave her the opportunity, through seminar classes and awesome field trips, to meet and become friends with other artists in fields such as dance, theatre, music and graphic design. Marlayna remains involved at UMBC thanks to a fantastic internship that became a staff position after graduation. Marlayna works on campus with Creative Services, a branch of the Office of Institutional Advancement, taking photos for marketing campaigns, student and donor events and promotional work for the University (she even gets to continue to cross paths with the Linehans at some of these events!). Beyond her work at UMBC, Marlayna also runs her own business doing freelance work, primarily weddings and portraits – some of her work can be found at marlaynaphotography.com
A native of Brooklyn, NY, Holly Googe – Dance '09 trained and performed at institutions such as the Ailey School, Dance Theatre of Harlem and LaGuardia High School of Music & Art and Performing Arts.  Holly then attended UMBC, where she earned her B.A. in Dance and minor in French in 2009.  Since graduating, Holly worked as a performer and choreographer on various projects, including Fashion's Night Out, GG Lizay's music video "Dance Away" and National Geographic's "Brain Games." Holly then went on to work as a dancer on Carnival Cruise Lines, performing and teaching dance to people from all over the world.  Currently, Holly resides in NYC and is continuing to pursue her passion for performing, teaching and living life!!
https://www.youtube.com/watch?v=hQQWjCQpfkc – choreography by Holly Googe
Lauren Snyder – Dance '02  is Artistic Director at Kinetics Dance Theatre in Ellicott City, Maryland.  A non-profit arts organization, Kinetics houses a professional modern dance company, student performing companies, and a school of contemporary dance.  In her role Lauren directs the professional company and oversees the organization as a whole.  As a choreographer Lauren's work spans from the abstract to the character-based; each piece introducing its own nuanced material.  Much of Lauren's work utilizes functional props and costumes, blends non-modern styles of dance, and explores unorthodox partnerwork.  As an instructor Lauren teaches modern dance with a Limon base, beginner and intermediate ballet, and her own modern-dance influenced style of tap.  Her current initiatives at Kinetics include the continued development of a Modern Master Class Series open to professional dancers and students throughout the Baltimore/DC area as well as a boy's dance program at the school.    Outside of Kinetics, Lauren has danced professionally with Baltimore Dance Project as well as taught and presented choreography along the east coast.  She has been a guest artist at New Hampshire-based Axis Dance Co, Howard Community College in Columbia, Maryland, and Franklin & Marshall College in Lancaster, Pennsylvania.  She is involved with local projects including AKIMBO Baltimore and the Howard County Community Dance Festival.  Lauren is the recipient of various individual grants for her work with dance in education and founded CommunityDanceLaboratory in 2010, a project devoted to the presentation of enrichment-based movement classes in schools and throughout the community. Lauren received her early training at Carver Center for the Arts and Technology and holds bachelor's degrees in Visual and Performing Arts/Dance and Psychology with a concentration in Development from UMBC, where she also minored in writing, as a Linehan Artist Scholar.
Franki Trout – Dance, with Education and Honors certificates '13 is Dance Director of the Performing and Visual Arts Magnet Program for Anne Arundel County Public Schools held at Annapolis High School. She holds an M.A. in Dance Performance from the Trinity Laban Conservatoire of Music and Dance in London, England where she recently graduated with Distinction. Funded as a Leverhulme Scholar, she danced as a member of Transitions Dance Company 2014-2015 under the artistic direction of David Waring, performing and touring original works by choreographers Stefanie Batten-Bland, Ikky Maas and Dog Kennel Hill Project. She holds a B.A. in Dance from UMBC. She also earned Education and Honors certificates and a study year abroad certificate awarded by Trinity Laban during her time as an undergraduate. She was awarded the Outstanding Junior Award from the UMBC Department of Dance in 2011 and the Outstanding Senior in Choreography in 2013. Her dance Baggage was presented at the American College Dance Festival in Amherst, MA in 2013. Franki has performed as a member of Deep Vision Dance Company under the direction of Nicole Martinell and in a site-specific piece choreographed by Meghan Flanigan in the Joseph Bueys Sculpture Park. She currently performs with Baltimore Dance Project.
Daphne Gardner – Visual Arts '09 is a filmmaker, writer, and actor from Baltimore currently living in Brooklyn. Her current work focuses on the young female experience in America: loneliness, complicated friendships, and hunting down the guy that shot your friend in the leg.
Daphne's most recent work includes writing and acting in the two-man show The Daphne and Carl Experience, which aims to cure hangovers and dissect why we are all alone in this world. She is in post-production for her first feature, Get Lost, which she co-wrote, directed, and starred in. She is also in post-production for a short documentary about the European tour of musician Nathan Reich.
Daphne says the Linehan program afforded her great opportunities at UMBC and she's very grateful to have been chosen to be part of such a prestigious program. She has worked at Oscilloscope Laboratories in film distribution and at the Tribeca Film Festival. She is currently an editor at Comedy Central.
her website is: www.daphnegardner.com
Linehan alumnus Daniel Roberts – Music '10 studied music education with an emphasis in jazz and classical guitar. During and after his time at UMBC, he studied with Matt Belzer, Tom Lagana, Zane Forshee, Matt Dunlap, Dr. Linda Dusman, Dr. Stuart Saunders Smith, Dr. Airi Yoshioka and many others. Inspired by Bono from U2, he became heavily involved in humanitarian efforts on campus through his work with Musicians for World Peace and was instrumental in bringing humanitarians from Uganda to share with students about their needs and how to get involved.
After graduating, Daniel took an interim band director position and then taught elementary band and strings. In 2011, Daniel took a full time teaching position at Howard High School as their guitar and piano instructor. He also directs the Howard High School Showcase – a full 2 hour professional level concert put on by high school students every winter. As of fall 2014 he will be the Jazz Ensemble Director at Howard High. Daniel also supports many other arts related school initiatives.
During summer 2014, Daniel was on a select team of teachers rewriting the Howard County guitar curriculum. He also regularly presents at the Maryland Music Educator Conference sharing approaches to lesson planning, best practices and curriculum writing that integrate improvisation, composition and arranging in guitar and piano classes.
Daniel was the guitarist, band leader and primary writer/arranger for the original rock trio Band of Brothers from 2000-2013 (www.mybandofbrothers.com). This year, he began a new project with a duo called They'll Have Dreams. They will be releasing their first album in August 2014 and are looking to put together an east coast tour. To see more about They'll Have Dreams or to contact Daniel, check out www.theyllhavedreams.com and www.djrguitar.com.
Jessica Ruth Baker – Theatre '12 is an actor and a designer living in Catonsville and working in Baltimore. She recently joined Glass Mind Theatre as their Resident Technical Director, after having worked for them onstage and off for the past five years. This past spring, she was in Murdercastle with the Baltimore Rock Opera Society, designed the set for Scab with Interrobang Theatre (founded by UMBC alumni!), and was in the All-American Genderf*ck Caberet with Glass Mind. Currently she is in a production of Into the Woods with the purple light theatre company (more alumni!) which runs the last weekend of July and the first weekend of August. Purple light: http://www.purplelighttheatre.com/ Glass Mind: http://www.glassmindtheatre.com/ My personal bio on GMT: http://www.glassmindtheatre.com/company/jessica-baker/
Andrew Caughy – Visual Artists/Animation '11 After graduation and a short-lived venture in NYC, I moved to Baltimore and found a really great studio, 15Four. The Baltimore's art community is tight knit, as is the video production industry in Washington, DC. When I started working at 15Four, I started meeting and learning about dozens of other video houses that I had no idea were around. I am currently a Broadcast Designer and Animator at Image Factory DC. I work with a several other UMBC alumni. My work can be viewed at: http://vimeo.com/andrewcaughy/videos
Mallorie Ortega – Theatre Design and Visual Arts '13 is a third year MFA student at the USC School of Cinematic Arts in Film and Television Production. Over the past three years, she has learned so much about what it means to be a storyteller and collaborator. Because of her background in Theatre Design and Production, Mallorie has been most successful in production designing films. She has designed highly imaginative worlds like scary basements, futuristic humanoid robots and light bulb growing trees. Mallorie production designed the origami weapon world of Warigami, a web series funded by New Form Digital. Over the summer she got the opportunity to teach high schoolers the art of filmmaking in collaboration with Warner Brothers Studios. Most recently, she production designed a USC thesis film called When Pigs Fly, which was awarded the prestigious Fox Fellowship Grant and features Glenn Howerton from It's Always Sunny in Philadelphia. Mallorie was selected to direct a USC funded Advanced Production, Mango Sticky Rice, a rom-com musical featuring Asian-American leads, and looks forward to bringing music into people's hearts. www.mallorieortega.com
Kim Fisch – Interdisciplinary/Dance/Women's Studies '01 has been teaching yoga since 2001. She is certified teacher in the Yoga Works method and a trainer for the Yoga Works 200 hour teacher training.
Kim's class guides students toward self-understanding and awareness, within a healing and experiential environment. Her teaching is a compassionate and interdisciplinary approach to yoga, dedicated to structural and energetic integration, alignment, breath and heart.
After teaching her first sold out retreat in Ojai California last year, Kim hopes to continue to lead healing yoga retreats all over the world. She is considered an in-demand yoga teacher in Los Angeles, teaching privately to high profile and celebrity clients. The highest accomplishment, however, is to enjoy each day as it is, to celebrate each day she has, in good health. Website: kimfischyoga.com
Flutist Krisztina Dér – Music '12 Linehan scholar alumna, has been awarded the second flute position with the Fayetteville Symphony Orchestra for the 2014-15 Season. She is a doctoral student, an Adelaide Fortune Holderness Fellow and a Graduate Assistant at UNC-Greensboro. She served as Assistant Program Chair for the 2013 National Flute Association Convention in New Orleans from 2012 to 2013.  Since her graduation from UMBC, she has competed as a finalist in the Rosen-Schaffel Competition, auditioned and became both a New World Symphony and Army Field Band semi-finalist, collaborated with Max/MSP composer Michael S. Rothkopf, and performed for Sir James Galway.  She received her Master of Music ('14) degree from the University of North Carolina School of the Arts, where she was a Nutcracker Scholar, the Flute Studio Teacher's Assistant, and the Large Ensemble Librarian. For updates, audio clips, YouTube videos, and ruminations, please visit Krisztina's blog at: www.krisztinader.wordpress.com. It's been an honor to keep carrying the Linehan torch.
Jimmy Horner – Visual Arts '13
An artist and animator in Baltimore, Maryland Jimmy Horner graduated from UMBC with a degree in Visual Arts with a concentration in Animation in 2013.
After graduating from UMBC and the Linehan Art Scholar Program, Jimmy started creating medical animations and advertisements at a company called VueCare Media. One of his animations was aired on Fox after winning two spots in the Gotham Fan Trailer Competition. Jimmy is currently working on two art projects that focus on the topics of bullying and death and hopes to publish both projects between early and middle of 2015. He is also partnering with The Art Way Alliance teaching animation to elementary through high school aged children in addition to his work in the industry.
Jimmy is thankful for the experiences and inspiration from the Linehan program that has pushed him to be a stronger and more thoughtful artist. The friendships and connections gained through the program help to expand his understanding of the arts and look to other art forms to strengthen his own.
Eliza Milligan – Music '13 is a flutist and freelance musician, currently pursuing a Masters of Music at The Peabody Institute. A graduate of UMBC, she holds a Bachelor of Arts in Music Performance and a Certificate in American Contemporary Music Performance. As a proponent of New Music, she has enjoyed participating in a variety of contemporary ensembles, including the UMBC New Music ensemble, and the Peabody Camerata. In addition to her studies of traditional repertoire, Ms. Milligan has had the privilege of collaborating with current composers such as, Dr. Michael Rothkopf and Dr. Mark Engebretson. Elizabeth is currently a student of Laurie Sokoloff and has previously studied with Dr. Lisa Cella, Dr. Lori Kesner, and Gina Eichman.